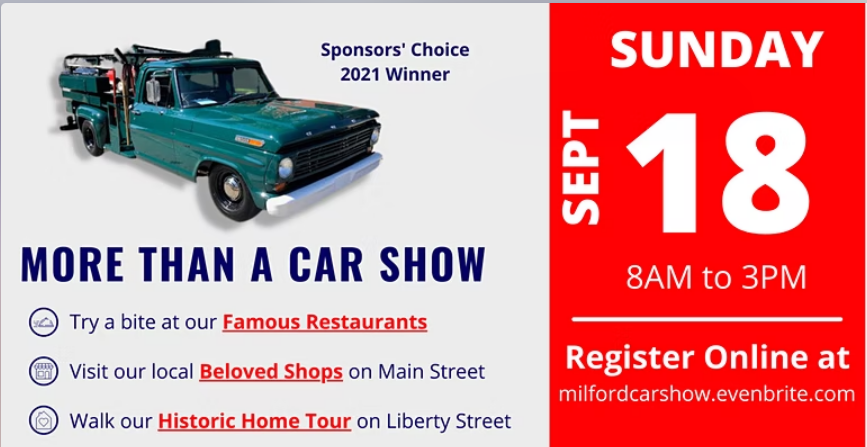 Milford Car Show 2022
Join us for the 2022 Milford Car Show in beautiful downtown Milford, Michigan on Sunday, September 18, 2022.
Make sure to follow us on Facebook to receive the latest updates: facebook.com/milfordcarshow
Online Pre-Registration, a cost of $20.00, is open until August 27th, 2022. Pre-registered entry receives a goody bag including a free t-shirt. The Milford Car Show is hosted by the Milford Business Association, who thanks you for your support!
Interested in being a vendor or a sponsor? Please email us at info@milfordcarshow.com for more information! Would you like to include your business card, a brochure, or a small item in our goodie bags? For only $50, we'll include your promotional item in all 200 bags!
Registration after August 27th is $25.00 (T-shirt not included), payable at entry gate on September 18th. We are not accepting any mailed registrations. You must register online or in-person the day of the show.
**Vehicles interested in parking together must arrive together.
Registration is limited to 300 vehicles. Sufficient spaces will be held for 300 pre-registered vehicles until 10:00am. Vehicles which are not pre-registered will be accommodated in order of check-in at the registration desk on a space available basis.
All vehicles (pre-registered or not) must move through the entrance on Union Street and check-in gate on Liberty Street. No early parking on Main Street will be allowed.