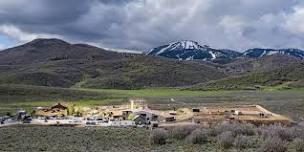 Utah Division of Outdoor Recreation Grants Workshop
The Division of Outdoor Recreation (DOR) offers unique grant opportunities to governments and nonprofits, including the Utah Outdoor Recreation Grant (UORG), the Recreation Restoration Infrastructure Grant (RRI), the OHV Recreation Grant (OHVR), and the Recreation Trails Program (RTP).
Join us for this workshop and learn about each of our funding programs, including who's eligible, funding amounts, planning a successful application, and how to write it in a compelling way. Additionally, attendees will learn how to leverage funding from these separate grant programs to lower their own cost! We'll also be sharing what's new for the 2023 grant season, including reduced matching requirements for Utah's smaller communities! All workshops include a Q and A to make sure your specific questions can be answered.
Registration for this FREE workshop on December 6th is required. This workshop will be held in Park City at the National Ability Center campus and will focus on project needs and grant support for those in neighboring cities and counties.
Light breakfast snacks and coffee will be provided.
We look forward to seeing you there!